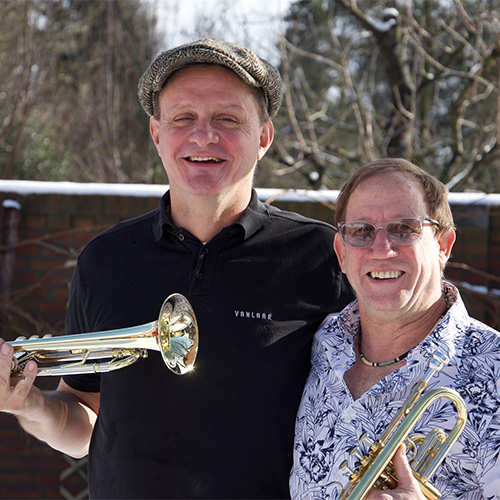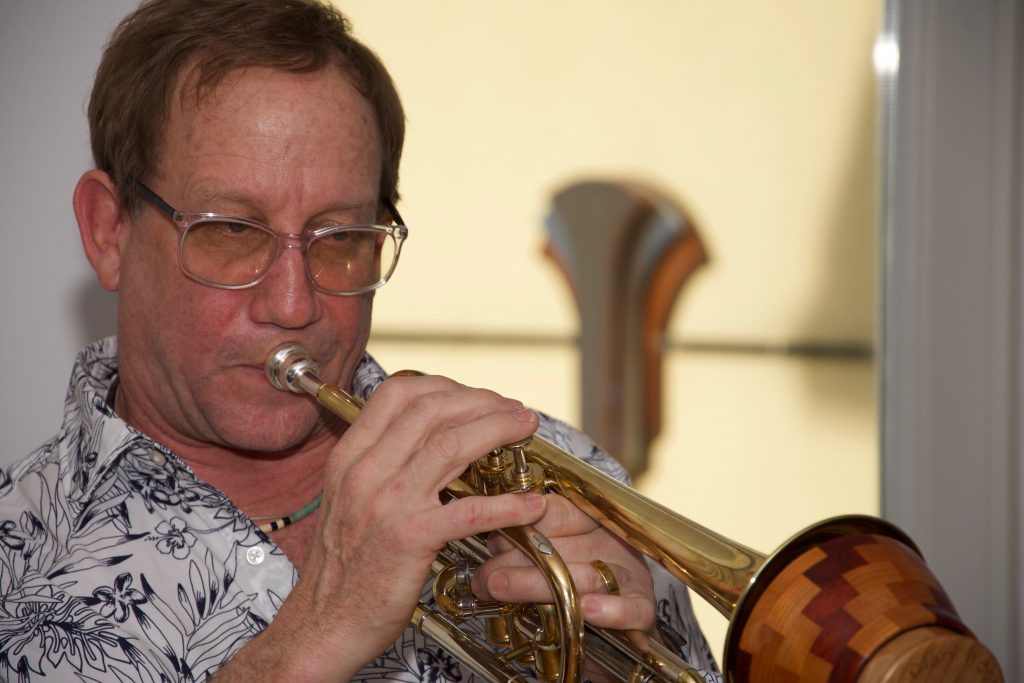 On Friday 01 February 2019 we were delighted to welcome the American trumpeter Kevin Ray Clark to our premises. Kevin gave a masterclass which was highly appreciated by the participating musicians who were given tuition and received numerous tips on how to improve their playing. He was accompanied by the pianist Coen van Dam, who performed several works. The masterclass was rounded off with a jam session together with the students.
We should like to thank all the participants for their interest and visit, and most of all Kevin for his visit and interesting workshop. A great time was had by all.
Kevin brought his wife Meaghan along with him. One further purpose of his visit was to develop a new cornet model together with Hub van Laar. We are now proud to announce that the trumpeter now performs on his new Van Laar Kevin R. Clark signature model. For further information please visit  http://www.kevinrayclark.com
For more pictures please feel free to watch our Facebook Album.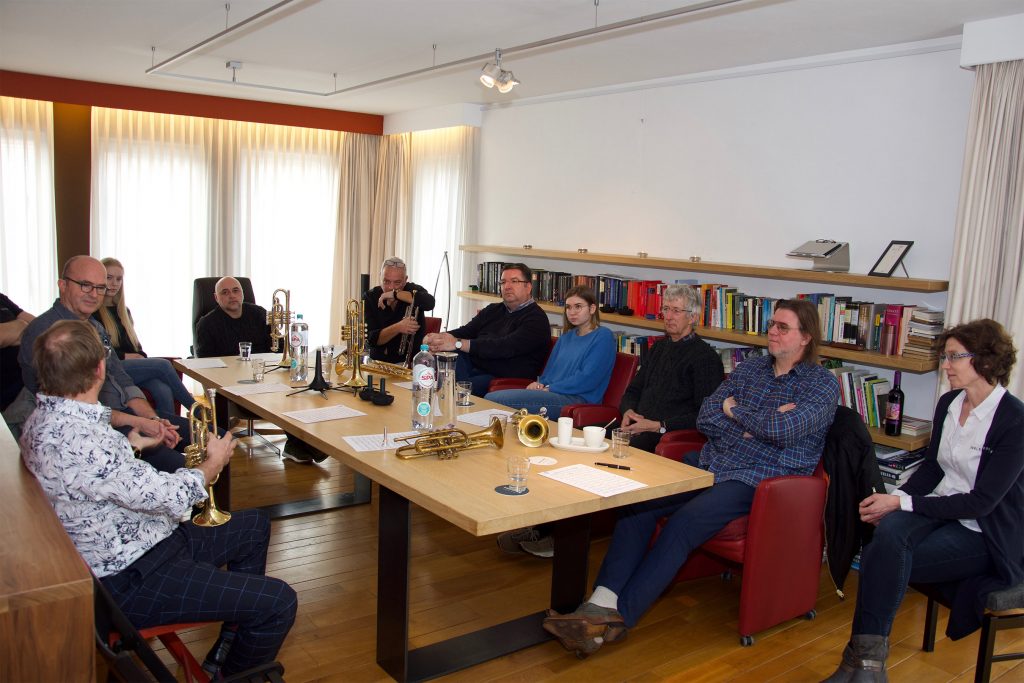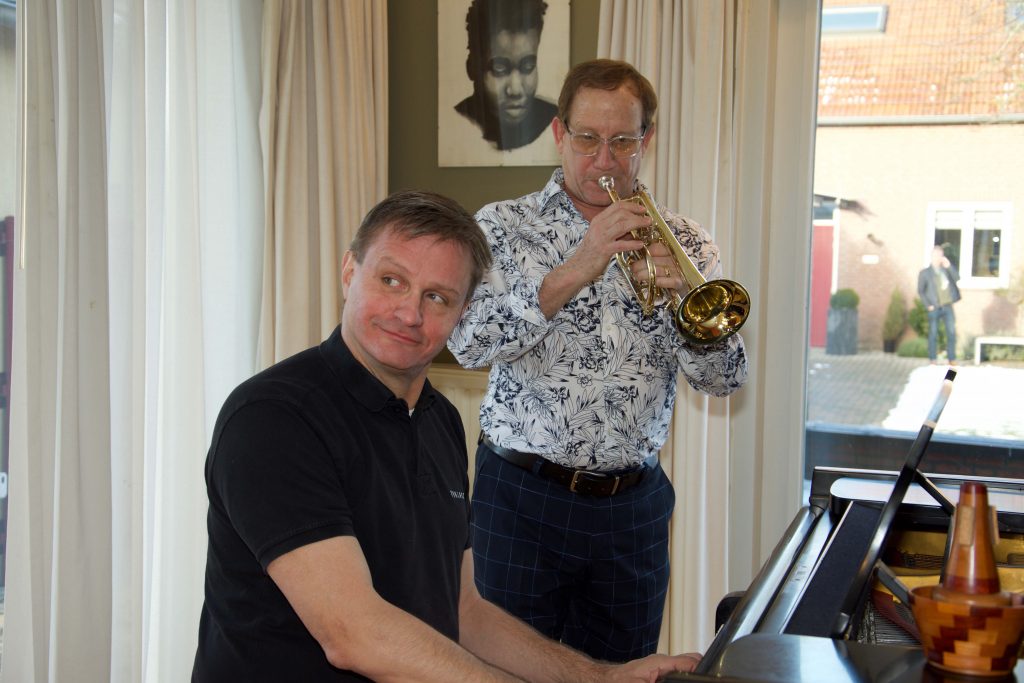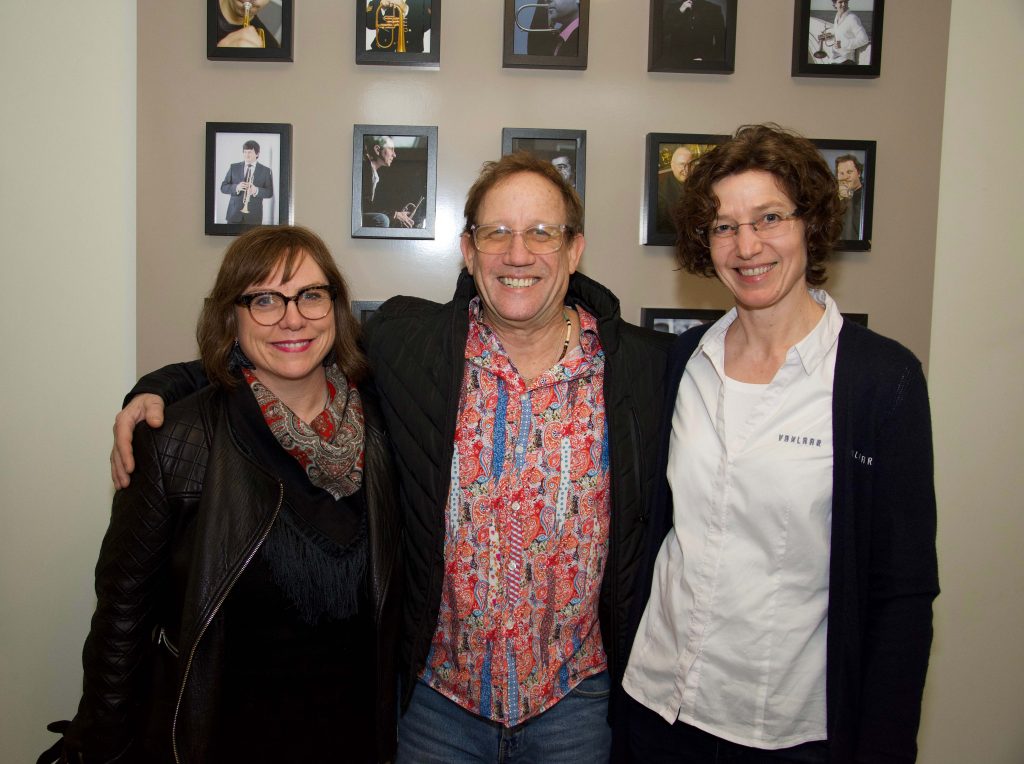 Meaghan, Kevin and Heidrun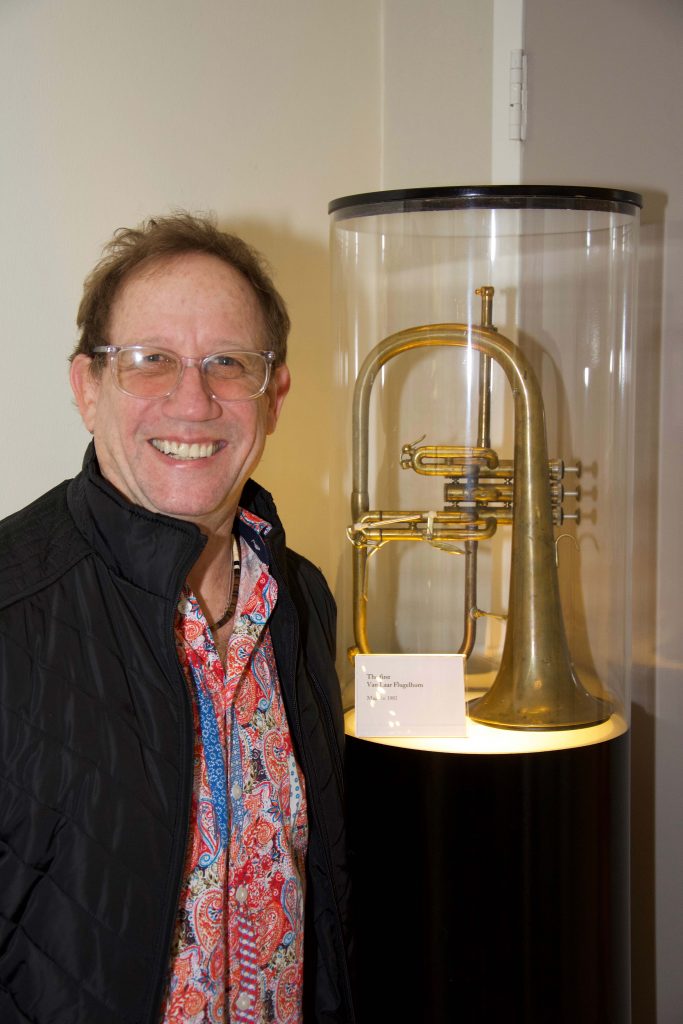 Op vrijdag 1 februari zal Kevin Ray Clark, trompettist uit New Orleans, een masterclass geven bij Hub van Laar Trumpets & Flugelhorns in Margraten. Kevin Ray Clark heeft een interessante muzikale achtergrond; hij heeft eerst in een circusband gespeeld, vervolgens in Walt Disney World en daarna met The Dukes of Dixieland in New Orleans. Hij verhuisde naar Toronto, Canada, waar hij muziekdirecteur was van The Historic Distillery District in Toronto. In 2010 verhuisde hij terug naar New Orleans, waar hij opnieuw lid werd van The Dukes, maar nu als bandleider.
De masterclass vindt plaats op vrijdag 1 februari van 13:30 – 15:00
 Iedereen is welkom, jong of oud, beginner of gevorderde speler, amateur of professionele trompettist.
De nadruk zal tijdens deze masterclass vooral liggen op ademhaling, uithoudingsvermogen, bereik en nauwkeurigheid. Kevin Ray Clark zal ook spreken over de opbouw van jazz solo's en de bijdragen van de vroege New Orleans-trompettisten.
Aanmelden kan t/m dinsdag 29 januari via webredactie@vanlaartrumpets.nl graag o.v.v. naam en telefoonnummer.
Het aantal deelnemers is beperkt (maximaal 15), dus aanmelden is vereist.
Ons adres:
Termaar 5, 6269 AE Margraten
Tijdens deze masterclass zijn we geopend zoals gewoonlijk en we heten u van harte welkom voor een "Meet and Greet".
===================================================================
Hub van Laar Trumpets and Flugelhorns is delighted to announce that the trumpeter and bandleader Kevin Ray Clark from New Orleans will be visiting us in January/February 2019 and giving a master class at our premises in Margraten.
Kevin Ray Clark has an interesting musical background, first playing in a circus band, then at Walt Disney World, and thereafter with the Dukes of Dixieland in New Orleans. He relocated to Toronto, Canada where he was Music Director for the Historic Distillery District in downtown Toronto. In 2010 he moved back to New Orleans where he rejoined the Dukes as their bandleader.
The master class will take place on Friday, 01. February, from 13:30 until 15:00.
All musicians who want to improve their breath control, endurance, range building and accuracy are welcome. Kevin Ray Clark will also be speaking about jazz solo construction and early New Orleans trumpet players' contributions.
The class is limited to 15 participants and is open to both classical and jazz trumpeters.
Please register via webredactie@vanlaartrumpets.nl and note that the closing date is Tuesday, 29 January.
Our address: Termaar 5, 6269 AE Margraten, The Netherlands.
It goes without saying that our business is open as usual and we will be delighted to welcome you to a "Meet and Greet" during the workshop days.