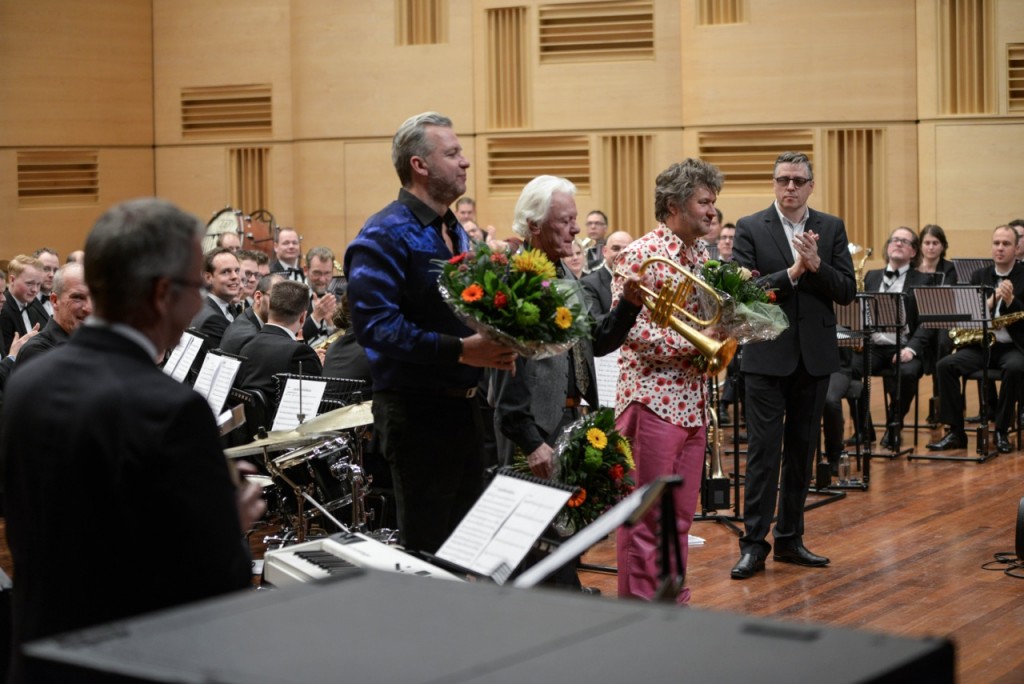 On 16 January 2016 the concert hall in Heerlen was packed with an audience eager to hear superb performances by the Limburg Fanfare Orchestra, lead by Juri Briat, and the four world-famous trumpet soloists Eric Vloeimans, Ack van Rooyen, Nanouck Brassers and Andrei Kavalinski playing their Van Laar instruments.
On the programme was a world premiere: Johan de Meij's Symphony No. 1 "The Lord of the Rings" in a special arrangement for the LFO.
As a contrast, harpist Wendy Rijken then performed Rodriguez' Concierto d'Aranjuez, arranged by Henk Meutgeert, who also appeared as guest conductor.
This was followed by a solo performance by Andrei Kavalinski who executed a brilliant and dynamic version for trumpet of Gershwin's Rhapsody in Blue.
After the break the music was dedicated to more modern, jazzy repertoire with participation of the Combo of the Marine Band of the Royal Netherlands Navy. Always ready for a joke, Nanouck Brassers asked his audience "What is worse than a Van Laar? Two Van Laars!" and then proceeded to delight them with a superb performance on his flugelhorn and trumpet by turns.
Eric Vloeimans gave a splendid rendering of the composition V-Flow, playing – of course – his Van Laar V-Flow trumpet with its very special open and dynamic resonance.
Last soloist to appear was Ack van Rooyen, a legendary and young-at-heart trumpeter who amazed and delighted his audience with his amazing technical prowess and sound. As he says himself: the advantage of being elderly is that one always has a young audience! Ack treated his enthusiastic listeners to a short course on improvisation.
Hub van Laar and Heidrun Jöchner would like to take this opportunity to thank the soloists, orchestra, combo, conductors and numerous guests from near and far (Netherlands, Belgium, Germany, Czech Republic, Poland, Croatia, Italy, France…), not forgetting our great teams in Margraten and Markneukirchen, for their contributions to an unforgettable concert and a wonderful evening.