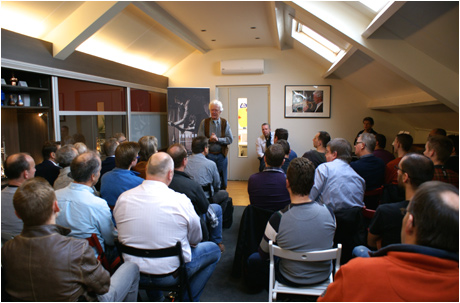 Ack van Rooyen seminar 'Improvisation'
On sunday 9th November 2015, the Van Laar workshop was packed with interested customers, friends and the artists Ack von Rooyen and Nanouck Brassers. All the participants were not only eager to try out trumpets and flugelhorns but also to improve their skills under the guidance of Ack and Nanouck.
The workshop covered many of the fascinating aspects of trumpet playing – improvisation – starting with just an idea and building on it, how to achieve a bluesy sound, rhythm, syncopation, off-beat music-making… You name it, they tried it! Techniques such as circular breathing, preparing the tone, and articulation to name but a few aspects were worked on with the help of the experts.
After all this hard work, the participants were entertained and inspired by the two superb trumpeters Ack and Nanouck who were excellently accompanied by pianist Michel Blockhuizen.
Coffee, tea and canapés were enjoyed by all during the break.
And, of course, all the participants at the booked-out seminar were given the opportunity to test both our new and existing trumpets and flugelhorns in the workshop together with Hub van Laar.
A great day was certainly had by all!
Please have a look at our Facebook album (you don't need to have a Facebook account)