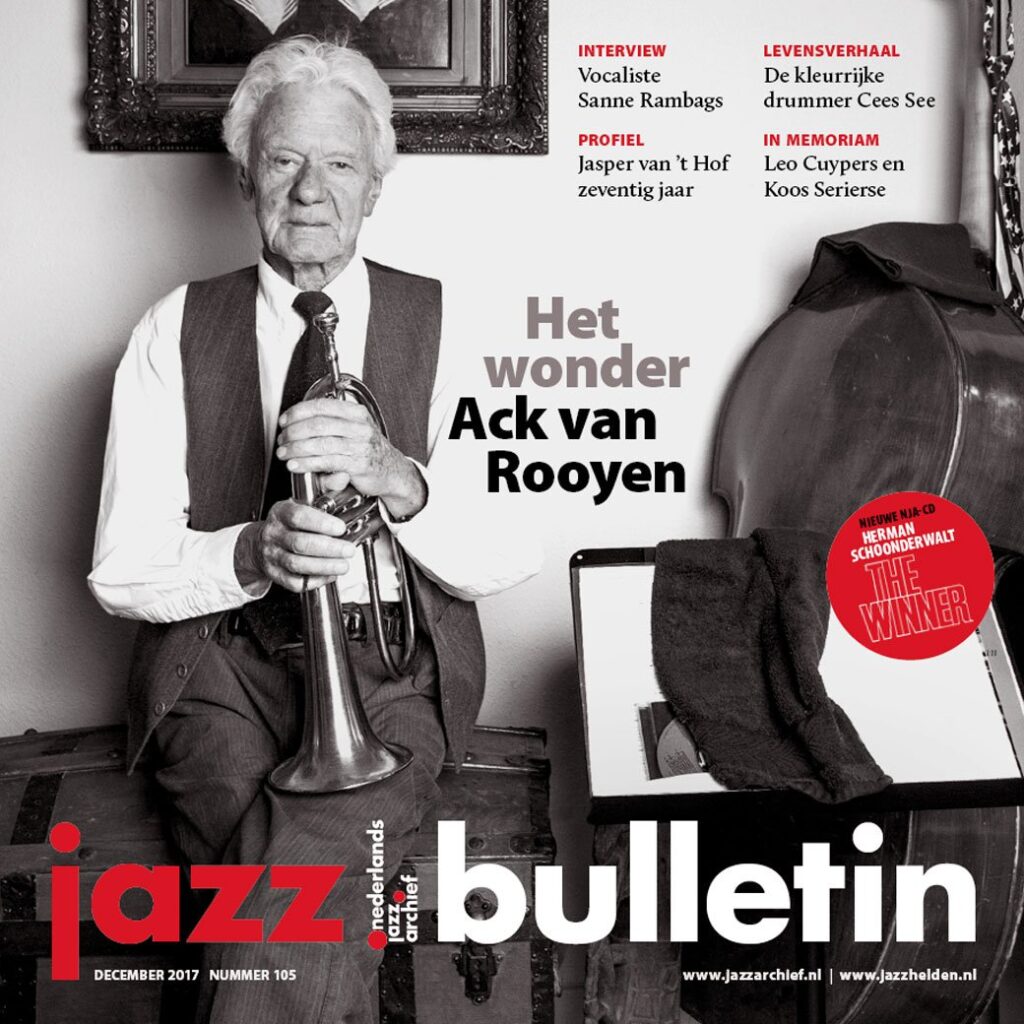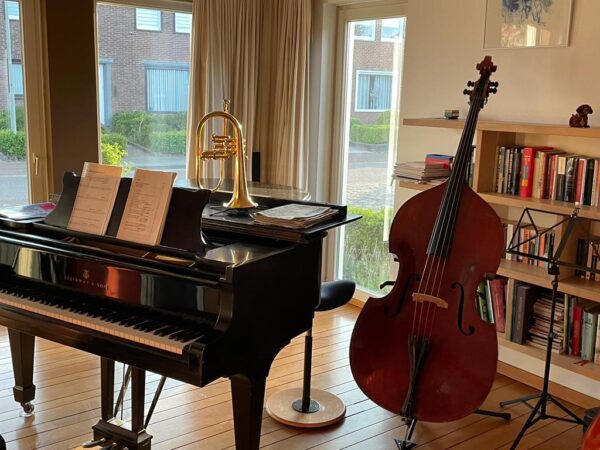 18 november 2021 overleed Ack van Rooyen op 91 jarige leeftijd. Een geweldige muzikant en dierbare vriend.
Bij een glas wijn of bier vroeg Ack zich vaak of hoeveel noten hij wel niet in zijn leven had gespeeld. We zullen nooit weten hoeveel dat er waren.
Ik ben er wel trots op dat hij veel van die noten heeft gespeeld op de bugel die we samen hebben ontwikkeld.
Het was in 2002 dat Ack mij belde of ik voor hem een instrument wilde maken. Ack heeft toen zeker een week bij mij gelogeerd waarbij hij alle details wilde weten en volledig betrokken was bij het vervaardigen van zijn bugel. Nog altijd bewaar ik daar mooie herinneringen aan.
Ik beschouw het daarom ook als een grote eer dat hij mij het instrument heeft nagelaten.
Ik heb het een mooie plaats gegeven naast de contrabas die hij me eerder had gegeven.
Veel muzikanten die langskwamen bij Ack in de Van Beverningkstraat te Den Haag zullen zich de voorkamer nog wel herinneren met de piano, de bas en uiteraard zijn bugel.
Bedankt Ack, voor alle mooie noten en herinneringen.
Hub van Laar

On 18 November 2021 Ack van Rooyen passed away at the respectable age of 91. He was a phenomenal musician and a very dear friend.
Many a time whilst enjoying a glass of wine or beer Ack mused as to how many notes he might have played throughout his life. We will never know for sure. I am very proud and feel privileged to have shared many notes as he played the flugelhorn we jointly developed.
In 2002 Ack called me to ask if I would make him an instrument, he stayed with me for at least a week where he involved himself in all of the detail in the creation of his flugelhorn. I cherish those warm memories.
I feel very honoured for him to have left me his beloved instrument. It now sits proudly next to the contrabass that he gave to me before.
Many a musician who passed by Ack in the Van Beverningkstraat in the Hague will remember the front room with the piano, contrabass and his flugelhorn.
Thank you Ack for all the beautiful notes and memories.
Hub van Laar